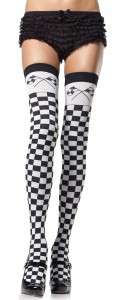 The stationing of American military forces during and after the war meant that Jamaicans could listen to military broadcasts of American music, and there was a constant influx of records from the US. To meet the demand for that music, entrepreneurs such as
Prince Buster
,
Clement "Coxsone" Dodd
, and
Duke Reid
formed
sound systems
. As
jump blues
and more traditional R&B began to ebb in popularity in the early 1960s, Jamaican artists began recording their own version of the genres.
[16]
The style was of bars made up of four triplets but was characterized by a guitar chop on the
off beat
– known as an upstroke or skank – with horns taking the lead and often following the off beat skank and piano emphasizing the bass line and, again, playing the skank.
[1]
Drums kept
4/4 time
and the bass drum was accented on the 3rd beat of each 4-triplet phrase. The snare would play side stick and accent the third beat of each 4-triplet phrase.
[1]
The upstroke sound can also be found in other
Caribbean
forms of music, such as
mento
and
calypso
.
[17]
One theory about the origin of ska is that
Prince Buster
created it during the inaugural recording session for his new record label Wild Bells.
[17]
The session was financed by
Duke Reid
, who was supposed to get half of the songs to release. However, he only received one, which was by
trombonist
Rico Rodriguez
.
[citation needed]
Among the pieces recorded were "
They Got to Go
", "
Oh Carolina
" and "
Shake a Leg
".
[citation needed]
According to
reggae
historian
Steve Barrow
, during the sessions, Prince Buster told guitarist Jah Jerry to "change gear, man, change gear."
[citation needed]
The guitar began emphasizing the second and fourth beats in the bar, giving rise to the new sound. The drums were taken from traditional Jamaican drumming and marching styles. To create the ska beat, Prince Buster essentially flipped the R&B shuffle beat, stressing the offbeats with the help of the guitar. Prince Buster has explicitly cited American rhythm & blues as the origin of ska, specifically
Willis Jackson
's song "Later for the Gator", "Oh Carolina", and "Hey Hey Mr. Berry".
[18]
The first ska recordings were created at facilities such as
Studio One
and WIRL Records in
Kingston, Jamaica
with producers such as Dodd, Reid, Prince Buster, and
Edward Seaga
.
[17]
The ska sound coincided with the celebratory feelings surrounding Jamaica's independence from the UK in 1962; an event commemorated by songs such as
Derrick Morgan
's "Forward March" and
The Skatalites
' "Freedom Sound." Because the newly-independent Jamaica didn't ratify the
Berne Convention for the Protection of Literary and Artistic Works
until 1994
copyright
was not an issue, which created a large number of cover songs and reinterpretations. Jamaican musicians such as The Skatalites often recorded instrumental ska versions of popular American and British music, such as
Beatles
songs,
Motown
and
Atlantic
soul
hits, movie theme songs, or
surf rock
instrumentals.
Bob Marley
's band
The Wailers
covered the Beatles' "
And I Love Her
", and radically reinterpreted
Bob Dylan
's "
Like a Rolling Stone
".
SKA SKA SKA SKA SKA SKA SKA SKA SKA SKA SKA SKA SKA SKA SKA SKA SKA SKA SKA SKA MUSIC SKA SKA SKA SKA SKA SKA SKA SKA SKA SKA SKA SKA SKA SKA SKA SKA SKA MUSIC SKA SKA SKA SKA SKA SKA MUSIC SKA SKA SKA SKA SKA SKA SKA SKA SKA SKA SKA SKA SKA SKA SKA SKA SKA SKA SKA SKA SKA SKA SKA SKA SKA MUSIC SKA SKA SKA SKA SKA MUSIC SKA SKA SKA SKA SKA MUSIC SKA SKA SKA SKA SKA SKA SKA SKA SKA SKA SKA SKA SKA SKA SKA SKA SKA SKA SKA SKA SKA SKA SKA SKASKA SKA SKA SKA SKA SKA SKA SKA MUSIC SKA SKA SKA SKA SKA SKA SKA SKA SKA MUSIC SKA SKA SKA SKA SKA SKA SKA SKA MUSIC SKA SKA SKA SKA SKA SKA SKA SKA SKA MUSIC SKA SKA SKA SKA SKA SKA SKA SKA SKA SKA MUSIC SKA SKA SKA SKA SKA SKA SKA SKA SKA SKA SKA SKA SKA SKA SKA SKA SKA SKA SKA SKA SKA SKA SKA SKA SKA… MUSIChttp://ska-zine.blogspot.com/p/porkpie.html